Harry Potter @ Randolph Library
Item request has been placed!
×
Item request cannot be made.
×
Processing Request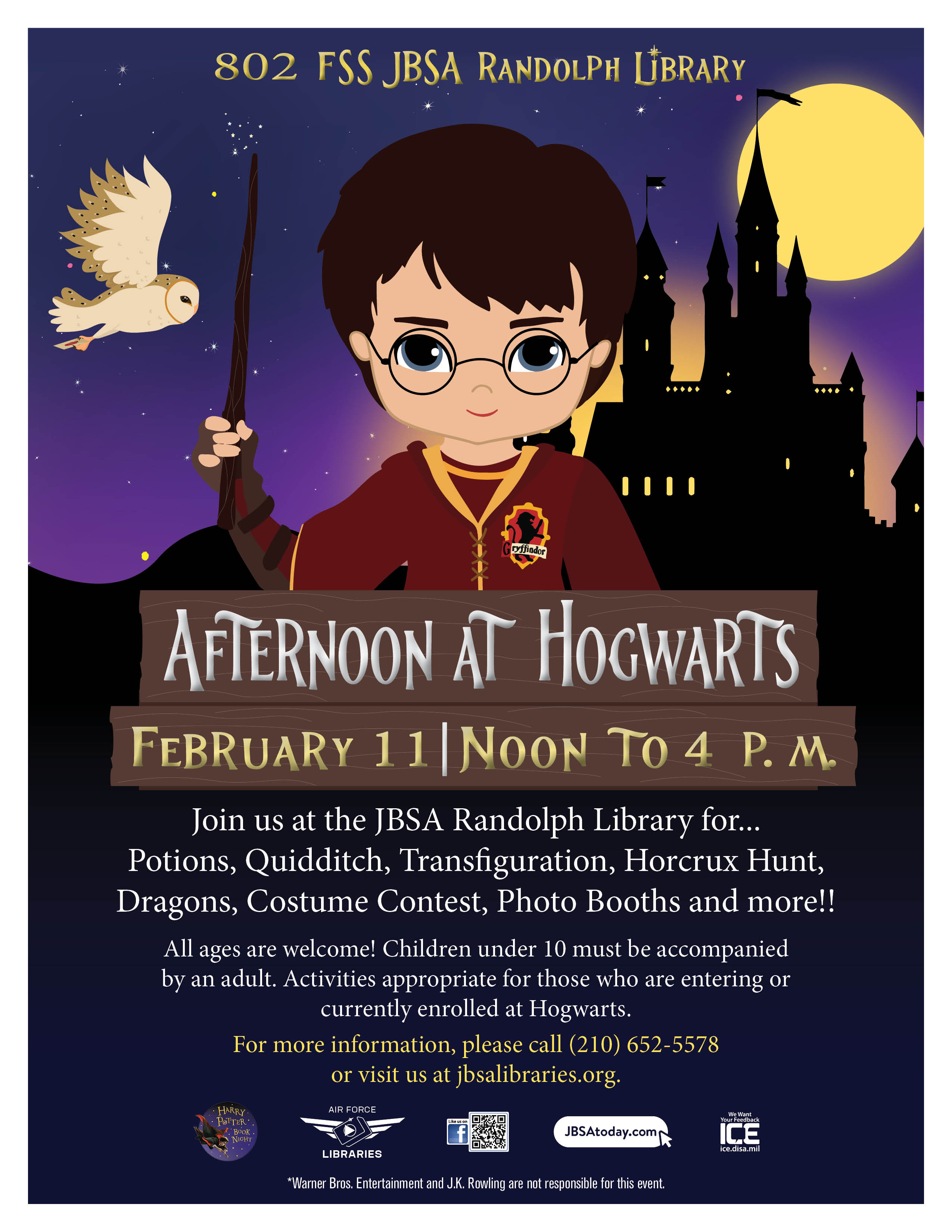 JBSA RANDOLPH LIBRARY: Afternoon at Hogwarts!
When: Saturday, February 11, 12 PM - 4 PM
Where:  5th St East, JBSA Randolph Air Force Base, JBSA Randolph, TX, US, 78150 (across from Hanger 16)
THE DAY OF THE EVENT
Special Library Hours and Facilities
The JBSA Randolph Library will only be open from 12 PM - 4 PM on the day of the event, and there will be no computer use, study room use, or checkouts available that day. 
There will be restrooms with changing tables available for use during the event. Please note: The ladies room is home to Moaning Myrtle, and she has been known to splash unsuspecting people. Caution is advised.
Guests
The event is open to all Military ID card holders (including civilians, dependents and retirees). Attendees are welcome to bring two additional guests, and will be responsible for their conduct and base access.
Items not permitted at the event
STROLLERS: Due to the the small size of our facility, strollers will not be permitted during the event. The lobby will have a stroller parking area. Note: Library staff are not responsible for any lost, stolen, or damaged personal items left unattended, including strollers. As Peeves likes to loiter in the front lobby, we recommend securing all personal items in your vehicles before the event. 
FOOD AND DRINK: Outside food or drink will not be permitted. Water will be permitted in closed containers. Absolutely no pumpkin juice permitted (it stains the carpets).
LARGE BAGS: Due to the small size of the facility, large bags, totes, and backpacks will not be permitted. Diaper bags are excluded and can be brought into the event. 
Photo Releases for minors 17 and below
Photos will be taken at the event. As a government organization, we are required to have a photo release form on file for all underage children (17 and younger). If you do not have a photo release on file with the JBSA Randolph Library, please click here to fill out and print your form for the Randolph Library. We will also have additional forms available on the day of the event to fill out in person.
Families will have the option to "opt out" of photos being shared on Facebook at that time, and will be given a identifying wristband.
Volunteers Needed!
Looking for community volunteer hours? Just love Harry Potter? We are in need of volunteers for the event! We're looking for:
Sign-in table volunteers
Activity station volunteers
Photographer
Photo op cosplayers
A Dumbledore (we have the costume and wig/beard, we just need someone to wear it! The costume is sized for anyone six feet or taller.)
Interested in helping us that day? Call us at 210-652-5578 or come by the library to inquire! Volunteers must be 16 and older.
Parking
There are two parking lots available near the library noted in yellow below (should you and your family be traveling by muggle car rather than floo). Please note: the street directly in front of the library will be closed to thru traffic that day.
Hanger 16, directly across from the library, will also be available for parking but on a limited basis.
Please do not park in Base Housing behind the library. Housing parking is reserved for residents. 
Costume Contest: 3:15 PM
The costume contest will be broken down by the following groups:
0 - 10 year olds
11 - 17 year olds
Family Entry (all family members attend dressed up!)
Costumes will be judged on:
Originality.
Concept, as well as which book inspired it.
Knowledge of the character.
Only ONE prize will be given per group. Must be present to win.
Have additional questions? Please call us at 210-652-5578!